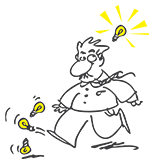 Many times a client simply needs an outside "creative sounding board" for consulting services.
As a collaborative consultant and team player with 40+ years of experience, my approach is simple.
I carefully listen to ideas being expressed.
Interpret what a client wants to accomplish.
Present working ideas and sketches.
Recommend solutions.
Deliver a final product if requested.
Whether you need a couple of hours, a day or two, a week or on-going services I'm available to work with you on an as-needed basis.