Do you have a design or illustration project you'd like to discuss?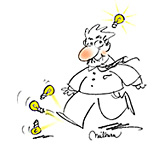 Let's explore the many ways I can help promote your ideas, products and services with highly personalized graphic design and fun illustrations.
Fill out the contact page below, and I'll get in touch with you as soon as possible.
Thanks!
Milburn Taylor